There are so many reasons to live in the thriving City of Edinburgh. It offers so many opportunities to so many people. We have brilliant universities – making it a huge attraction to students coming from far and wide. We have so much history and culture – making it very appealing to tourists. Edinburgh also offers fantastic career opportunities. Did you know it is now Europe's fourth largest financial centre? These are just a few reasons why you should invest in the prosperous buy to let market. There is an area to suit everyone. Where would my top 5 buy to let areas be?
Old Town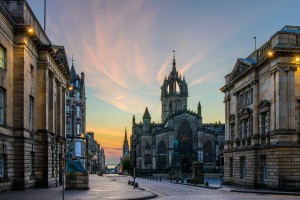 The Old Town is packed full of attractions. The Royal Mile, Edinburgh Castle, The National Museum of Scotland and The University of Edinburgh to name just a few. It is a hugely attractive area to those that want to live surrounded by history. There are currently 20,000 residents in the various parts of Old Town and everyone needs somewhere to live. A buy to let property in The Old Town will provide you with a dependable income. During August, Edinburgh is home to the largest arts festival in the world and property is in demand. Whether you decide to let your Old Town property Long Term, Short Term or for Festival and Holiday lets – it won't be empty.
Marchmont / Bruntsfield
Both areas offer great amenities. There is plenty of green space and home to a huge number of students due to proximity to Edinburgh University, Napier University and Edinburgh College of Art. The demand for HMO (House of Multiple Occupancy) properties is very high. HMO properties can be one of the best performing type of rental properties due to their high rental yields. You will have students biting your arm off to live in your property should you choose to invest in Marchmont or Bruntsfield.
New Town
The New Town is one of the most desirable areas to live in Edinburgh. Full of Georgian splendour. It is near fantastic shops and great restaurants. The area is close to all travel links and makes commuting a breeze. If you can invest your money in the New Town, your property will be in high demand and your investment will grow and grow. You'd also be wise to look towards the 'East Village' of Broughton towards Hillside – it's coming up!
West End
The West End of Edinburgh is a vast area full of hidden gems, such as stylish boutiques and adored pubs and bars. It is a charming place to live. A property here is enticing to young couples and professionals. Being able to live close to work and in a buzzy area is the dream.  With Haymarket train station on your doorstep, The West End is also the perfect place to live for commuters.
Leith / The Shore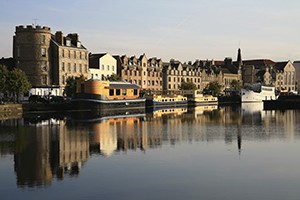 The Shore has undergone major development. It is full of lovely bars, restaurants and hotels. A recent study named it second in the 'Hip Hang-Out Neighbourhood Index' in the UK. It is also home to the Royal Yacht Britannia and Ocean Terminal shopping centre. Investing your money in this part of town gives you a variety of options from converted warehouses, townhouses, new-build apartments and traditional tenement flats to cottages. So get with the cool kids and buy in Leith.
Investing in a buy to let property can be daunting. Factotum knows the Edinburgh property market. We can provide rental assessments or general advice on regulations and HMO compliance. Get in touch, we're here to help.