Originally known as 'Brounysfelde', or 'Brown's Fields' after the owner of Bruntsfield House, the area was the site of several notable manor houses. Bruntsfield House is the only one of these houses still in existence, now part of James Gillespie's High School. Bruntsfield Links is famous for being one of the city's earliest golf courses, but the area is also known as home to Chic Murray (comedian), Muriel Spark (author), William Craig (botanist) and Sophia Jex-Blake (feminist).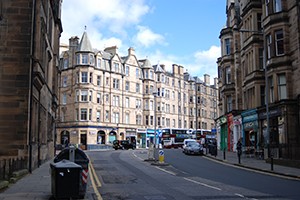 South of Edinburgh's City Centre, the neighbourhood is right on the meadows and packed full of restaurants, bars, coffee shops, delicatessens and boutiques. It offers a real mix of properties, from full townhouses to tenement flats. Primarily Victorian in architecture, many properties offer their residents period features, high ceilings and generous room proportions.
Bruntsfield restaurants, cafes and bars such as Montpeliers, TriBeCa, Papilio and Howies offer great food and drink. As it is right next to the meadows, there is plenty of access to green space. So whether you want a picturesque stroll, a challenging run or to take the children to the park, it is the perfect spot.
Bruntsfield is either a quick walk or journey into the City Centre with excellent bus links and easy car routes to other parts of the city. If you have a car, many properties in the area have on-street parking. However, a permit is usually required. This can be arranged through the Edinburgh City Council.
There are a number of excellent local Primary Schools, including Bruntsfield Primary School and St Peter's RC Primary School. It is in the catchment area for Boroughmuir High School, James Gillespie's High School and St Thomas of Aquin's RC High School, but is also in easy reach of a number of public schools including George Watson's and George Heriot's.
Bruntsfield is a popular area for university students, close to Edinburgh University, Napier University and Edinburgh College of Art.
Between Tolcross (EH3) and Morningside (EH10), Bruntsfield is close to Newington (EH9) and the Old Town (EH1).