Newington was gifted to the city of Edinburgh in the 12th century by David I. The land was mainly rural until the late 18th century when the South Bridge was built. At the same time as the New Town was in construction, many of the city's residents decided to move to Newington instead. The large villas on Minto Street and the surrounding areas housed some of Edinburgh's elite.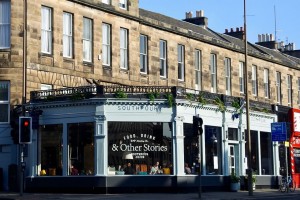 South of Edinburgh's City Centre, Newington boasts a collection of shops, delicatessens, restaurants, cafes and bars. A popular area for university students, it is close to Edinburgh University, Napier University and Edinburgh College of Art.
The area offers a real mix of properties, from full townhouses to tenement flats. A mix of Georgian and Victorian in architecture, many properties offer their residents period features, high ceilings and generous room proportions.
Restaurants, cafes, delicatessens and bars such as The Edinburgh Bakehouse, Southpour and Isola offer great food and drink. As Newington is close to the meadows, there is plenty of access to green space. If you want a picturesque stroll, a picnic or to take the children to the park, it is the perfect spot.
Newington is a quick journey into the City Centre, with excellent bus and car routes to other parts of the city. If you have a car, many properties in the area have on-street parking. However, a permit is usually required. This can be arranged through the Edinburgh City Council.
There are a number of excellent local Primary Schools, including Sciennes Primary School and St Peter's RC Primary School. It is in the catchment area for James Gillespie's High School and St Thomas of Aquin's RC High School, but is also in easy reach of a number of public schools including George Watson's and George Heriot's.
Close to Bruntsfield (EH10), Morningside (EH10) and Marchmont (EH9), Newington is also near the Old Town (EH1).