The Morningside estate is believed to have been created during the feuing of Burgh Muir in 1586. Many street names in the area have Egyptian themes (e.g. Nile Grove, Jordan Lane and Canaan Lane). In medieval times people believed that gypsies originated in Egypt. The neighbourhood was mostly occupied by them at the time so became known locally as Little Egypt. Modern Morningside is one of Edinburgh's most desirable areas. Famous for its literary ties, the area has been home to JK Rowling, Ian Rankin and Alexander McCall Smith as well as the fictional Miss Jean Brodie.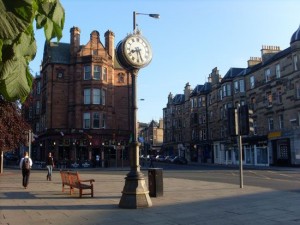 South of Edinburgh's City Centre, Morningside boasts an eclectic collection of small traditional shops, delicatessens, restaurants, cafes and bars. It offers a real mix of properties, from full townhouses to tenement flats. Primarily Victorian in architecture, many properties offer their residents period features, high ceilings and generous room proportions.
It's easy to immerse yourself in culture if you're in Morningside. The area has its own family-run cinema, The Dominion (an Edinburgh institution). The locally acclaimed Church Hill Theatre has a packed programme of performances, the local libraries are well attended so you won't be short of activities. Home to one of Edinburgh's most famous pubs, The Canny Man's, you won't be short of places to eat or drink either.
Morningside is a quick journey into the City Centre with excellent bus links and easy car routes to other parts of the city. If you have a car, many properties in the area have on-street parking. A permit is usually required. This can be arranged through the Edinburgh City Council.
There are a number of excellent local Primary Schools, including Bruntsfield Primary School, South Morningside Primary School and St Peter's RC Primary School. It is in the catchment area for Boroughmuir High School and St Thomas of Aquin's RC High School, but is also in easy reach of a number of public schools including George Watson's and George Heriot's.
Close to Bruntsfield (EH10) and Marchmont (EH9), Morningside is close to Newington (EH9) and the Old Town (EH1).