Portobello is a coastal village north east of the Edinburgh City Centre. Once famous as a beach resort, the area looks on to the Firth of Forth past a sprawling promenade of white sandy beach.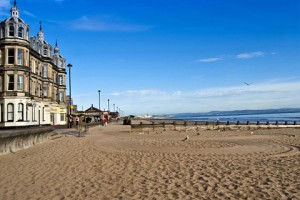 The area was originally known as Figgate Muir, roughly translated as Cow's Ditch. It was used as pasture land by the monks of Holyrood Abbey. By the 18th century, it had become synonymous with seamen and smugglers. The area quickly turned into a hub of industry, until its beautiful setting transformed it into a fashionable bathing resort by the completion of salt-water baths in 1807. The facilities once extended into a large open-air swimming pool. Sean Connery worked there as a lifeguard!
Modern day Portobello is filled with pubs, restaurants, cafes, coffee shops, shops, takeaways and delicatessens. Its properties are mixed from traditional townhouses and tenement flats to modern developments. If you're lucky, many properties have fantastic views over the water.
Local restaurants, cafés and bars such as The Beach House, The Espy and The Skylark offer great food and drink. There are always tonnes of activities happening on Portobello Beach, including kayaking, horse riding, sailing, volleyball and triathalon events. So whether you want a picturesque stroll, a challenging run or to take the children out for the day, it is the perfect spot.
Portobello is a quick journey into the City Centre with excellent bus links and easy car routes to other parts of the city. If you have a car, many properties in the area have on-street parking.
There are a number of excellent local Primary Schools, including The Royal High Primary School, Towerbank Primary School and St John's RC Primary School. It is in the catchment area for Portobello High School and Holy Rood RC High School, but is also in reach of a number of public schools including Erskine Stewart's Melville Schools, St George's School for Girls, The Edinburgh Academy and Fettes College.
Close to Abbeyhill (EH8) and Leith (EH6), Portobello is close to Easter Road (EH7) and Hillside (EH7).