The Edinburgh Fringe Festival (often referred to simply as the 'The Fringe') is the world's largest Arts Festival. Established in 1947, by 2016 it spanned 25 days, featured 50,266 performances of 3,269 shows in 294 venues! Sounds a bit crazy, right? So here is a guest pass into finding out more about these spectacular Fringe venues and must-see shows of 2017!
The 'Big Four' are the most prestigious, largest, crème de la crème of Fringe venues. However they can also be the most competitive and expensive. Each of these venues have their own specialties and will put on almost any show with only one requirement… they are amazing!
Assembly Hall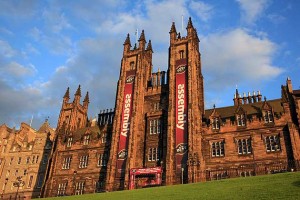 The Assembly Hall is a magnificent venue atop The Mound which hosts the finest drama, music and comedy shows. With a capacity ranging from 60 – 840, it is sure to receive a lot of foot traffic. Be aware that the term 'Assembly' can be rather confusing, spread out in several locations there is also a venue called Assembly Rooms which is in a different part of town.
What can you see at Assembly Hall?
Jason Byrne
Milton Jones
Reginald D Hunter
Gilded Balloon
Located in Bristo Square, the Gilded Balloon encompasses nine different venues, the smallest of which has 50 seats and the largest at 350. This Fringe venue has become the unofficial home to Australian performers and has a wide variety of performances and styles.
What can you see at the Gilded Balloon?
Bec Hill
Jan Ravens
Juliette Burton
Pleasance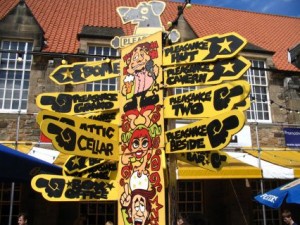 The Pleasance has two main hubs for performances – the Pleasance Dome situated on Bristo Square and The Pleasance Courtyard, located on The Pleasance, a street which comes off the Royal Mile. The Pleasance Courtyard is home to Pleasance Grand which is one of the largest venues at 700 seats. This Fringe venue offers a lot of variety. It's most famous for its comedy acts but it will show just about anything.
What can you see at The Pleasance?
Simon Amstell
Colin Cloud
John Hastings
Underbelly
Otherwise known as The Big Purple Cow! This venue is situated on George Square and in the Cowgate. It has a bustling nightlife outside all month long and a number of venues surrounding it. Last year alone 240,000 were sold. The venue tours the rest of the UK throughout the year.
What can you see at the Underbelly?
The Amazing Bubble Man
Foil, Arms and Hogs