In the office, I am known as a food lover, so it seemed fitting for me to discuss my top places to grab a bite to eat during my working day. I usually choose family or locally owned businesses to support, so this is the reasoning for my top five work lunch destinations around our office in Dublin Street.
Crombies
Every day, Crombies has a selection of hot and cold lunches freshly prepared on offer. One of my favourite work lunch dishes has to be the sausage and mash they offer at least once a week. Where else would you want to buy your sausages other than an award-winning Scottish family butcher who specialises in them?
Amina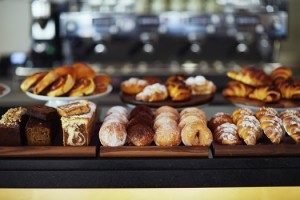 Anima, the food we love at incredible prices. This family-owned Italian is extremely popular, especially since they introduced a lunchtime special with any pizza, pasta or chicken melt for £3.99 – bargain! The chicken melt 'Spagna' is my usual order, which includes Chorizo and grilled onion in a homemade focaccia. It's mouthwatering. There is a huge extensive menu to choose from and you will not be disappointed as all meals are freshly prepared.
New Town Deli
Locally owned and run business which has two separate shops – one on Broughton Street and another on Henderson Row. Generally, I choose the Henderson Row shop as there is a larger kitchen and menu. From freshly prepared soups and a large selection in the delicatessen counter, it's often difficult to choose. The New Town club sandwich with chips is not to be missed.
The Square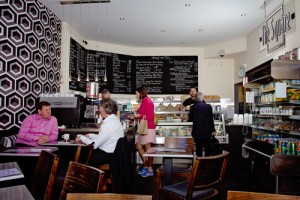 There are two shops separated by York Place supplying the choice of six different homemade soups daily. They're pretty popular so you can't go too late in the day. There are dozens of tempting filings to choose from and enjoy in a variation of freshly baked breads and rolls. They have a hot dish which changes every day. A particular favourite of mine is the teriyaki pulled pork with Asian coleslaw in a wrap or ciabatta. A nice twist to a popular meal.
Take it Away Spud
This tiny locally owned shop (which you may miss if you do not know it exists) is located in the heart of Stockbridge. As you can probably figure out from its name, it is a baked potato shop.  With a counter full of fillings to chose from, my usual order is either cheese and coleslaw or haggis and cheese. The portion size is not disappointing as the chatty staff fill the potatoes as full as possible. Make sure you've got a healthy appetite before you order from here!
And if you asked me my favourite? I don't think I could choose my favourite work lunch destination if I tried. It's impossible not to be hungry after writing this. Is it lunchtime, yet?